News
Product news
22. October 2014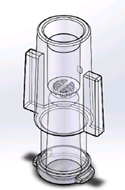 We are pleased to introduce you to our new and improved Female Luer Lock, which is used together with a syringe when flushing the Guide Wire before use. The new improved Female Luer Lock will replace our existing Female Luer Lock, where included in the packaging of our Accoat™ Guide Wires (PTFE coated Seldinger GW) and our Poseidon™ Hydrophilic Nitinol Guide Wires.
The design of our new improved Female Luer Lock has been changed to include an inside grille which will secure that the Guide Wire will be safe kept inside the dispenser and still allows it to be flushed as recommended or required according to the Guide Wire type.
The function and material of the new improved Female Luer Lock will not change.
During a transition period our customers may continue to receive some product furnished with the old Female Luer Lock. This will be for a short period of time and is relative to products already manufactured and in storage prior to our change date.
Should you need samples of our new improved Female Luer Lock you are most welcome to contact our Sales Coordinator Mrs. Belina Rahbek Jensen by mail: brj@sp-medical.com and she will be pleased to send you a few samples.